AXIS T8504-R T85-serie, Industriële 8-poorts Switch, 4 x 1 Gbps RJ45 240W Rack Mount
Merken:
AXIS Communications
Artikelnr #:01633-001
Model #: 01633-001
Naam: AXIS T8504-R T85-Series, 8-Port Managed Industrial PoE Gigabit Switch with 2 SFP and 2 RJ45 Ports, 240W, Rack Mount
High availability with Rapid Ring
Dual DC power redundancy
Compliant with High PoE 60W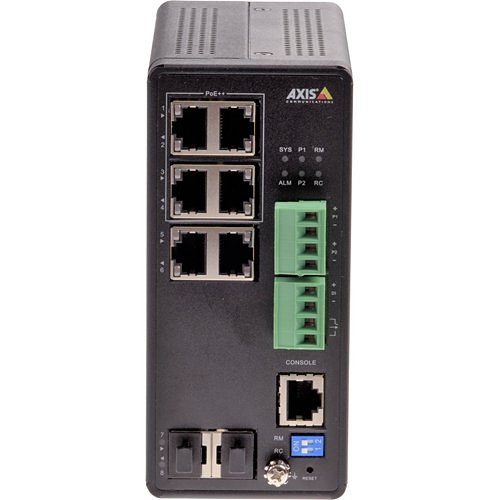 Productoverzicht
Algemeen Informatie
AXIS T8504-R Industrial PoE Switch is a 4-port managed industrial PoE++ Gigabit switch. In addition, the switch is equipped with two RJ45 and two SFP data ports that allow for extra devices to be connected.
For high demanding installations
The ruggedized industrial switch is developed for challenging environments when mounted inside a surveillance cabinet. It is designed to withstand shock, vibrations, and temperatures from -40 °C to 75 °C (-40 °F to 167 °F), making it perfect for highly demanding installations such as alongside highways and tunnels.
Easy to install and configure
AXIS T8504-R Industrial PoE Switch, is easy to install by using standard AXIS tools such as AXIS IP Utility and AXIS Device Manager. AXIS T8504-R also comes with an individual password, an easy-to-use setup wizard, and a comprehensive set of configuration tools such as an integrated DHCP server for the automatic assignment of IP addresses. It also allows for even more advanced network configurations such as Rapid Ring Protection Protocol, VLAN, QoS, Security, and Spanning tree to further optimize the total solution.
Total overview with unique user interface
AXIS T8504-R uses the same intuitive administrator interface as AXIS T85 PoE Network Switch Series .The unique web graphic user interface offers a graphic topology for an easy overview of all devices in the system. The graphic user interface provides information, status, and notifications about connected devices. It allows for the management of all connected devices, reboots of cameras in the system, monitoring of network traffic, cable diagnostics, and much more.
Main Features
Industrial PoE Switch
4-port managed industrial PoE++ Gigabit
equipped with 2 x RJ45 and 2x SFP data ports that allows for extra devices to be connected
Uses the same intuitive administrator interface as AXIS T85 PoE Network Switch Series
Ruggedized with a wide temperature range and NEMA TS2 compliant
Categorie : Netwerk Switches, Data Comm & Netwerken, Producten, Hubs, Routers & Switches
Specificaties
Algemene Informatie
Productnaam
T8504-R Industrial PoE Switch
Energie
Interfaces/Poorten
Ingangen
2 x 10/100/1000Base-T, 2 x SFP
Productinformatie
Uiterlijke kenmerken
Overige