ComNet CNGE5MS Managed Ethernet Switch met (3) 10-100-1000Base-TX en (2) 10-100-1000Base-TX-100-1000Base-FX Combo-poorten.
Merken:
ComNet Communications
Artikelnr #:CNGE5MS
Model #: CNGE5MS
Naam: ComNet CNGE5MS Managed Ethernet Switch with (3) 10-100-1000Base-TX and (2) 10-100-1000Base-TX-100-1000Base-FX Combo Ports
Supports cost-efficient twisted pair cables for high-speed data transfer up to 100 meters
Gigabit Ethernet port for ultra-fast network speeds
With leading Layer 2 support, experience enhanced convenience, secure business operations, and a borderless network experience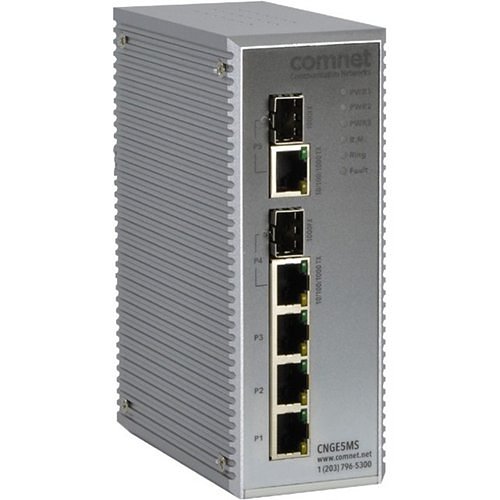 Productoverzicht
Algemeen Informatie
The ComNet™ CNGE5MS is a hardened, industrial five port all gigabit managed Ethernet switch. It has three 10/100/1000Base-TX and two Gigabit combo ports that utilize ComNet SFP modules for fiber and connector type and distance. The IEEE 802.3 compliant unit is a redundant switch offering multiple Ethernet redundancy protocols, C-Ring, ComRing, C-RSTP and MSTP/RSTP/STP. This redundancy feature protects your applications from network interruptions or temporary malfunctions by redirecting transmission within the network. The CNGE5MS offers centralized and convenient management through a windows-based utility called eConsole. Redundant DC power inputs provide non-stop operation in case of power supply disruption. The backup power input will take over immediately when the primary DC power input fails. The unit provides relay outputs that can be set up to indicate events and notify in case of potential problems.
Main Features
Managed Switch
3 Port 10/100/1000Tx, 2 Port 10/100/1000Tx or 100/1000Fx SFP Combo
DIN/Wall Mount
PSU Included
Categorie : Producten, Data Comm & Netwerken, Netwerk Switches, Hubs, Routers & Switches
Specificaties
Technische Informatie
Energie
Redundante stroomvoorziening ondersteund
Garantie
I/O-uitbreidingen
Aantal Total Expansion slots
Interfaces/Poorten
Gegevens poort/uitbreidingssleuf
2 x Gigabit Ethernet Expansion Slot, 5 x Gigabit Ethernet Network
Totaal aantal netwerkpoorten
Management & Protocollen
Media & Performance
Netwerktechnologie
10/100/1000Base-T, 1000Base-FX
Netwerk & Communicatie
Uiterlijke kenmerken
Vormgeving
Muurmontage, Railbevestiging
Overige
Inhoud verpakking
CNGE5MS Ethernet Switch
Power Supply