Netgear GS108PE ProSAFE 8-poorts Gigabit PoE Web Managed (Plus) Switch
Merken:
Netgear
Artikelnr #:GS108PE-300EUS
Model #: GS108PE-300EUS
Naam: Netgear GS108PE ProSAFE 8-Port Gigabit PoE Web Managed (Plus) Switch
Effectively reduces downtime with improved network performance
802.3x Flow Control
Electrical power is transmitted along with data in a single cable to devices such as Access Points, IP cameras or IP phones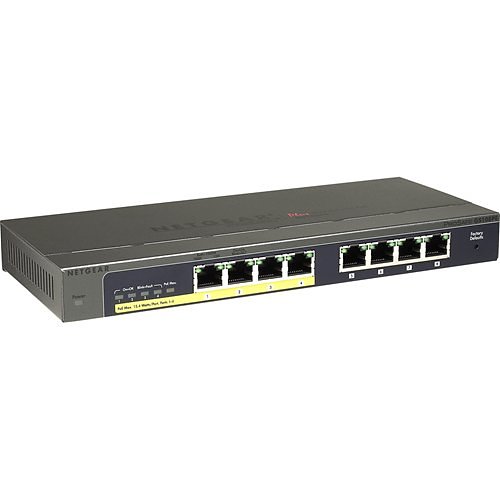 Productoverzicht
Algemeen Informatie
Control and Configure Beyond Plug-N-Play Connectivity
Today's growing businesses demand and rely more on their network to carry out mission-critical business activities. Companies are putting more network traffic and applications such as VoIP phones and IP cameras on their Ethernet infrastructure. It needs the network intelligence to separate the voice and video traffic from data, and prioritize them accordingly. However, companies do not necessarily have more money or advanced training to deal with complex managed switches. NETGEAR ProSAFE® Plus Switches meet this growing need by providing fundamental network features that will help optimize the performance of business networks. On top of the plug-N-play Gigabit Ethernet connectivity, these switches also offer essential networking features such as VLAN, QoS, IGMP Snooping, Link Aggregation (LAG), rate limiting and traffic monitoring. NETGEAR ProSAFE® Plus Switches are an exceptional value for businesses looking to add intelligence to their network beyond what unmanaged switches can provide.
Main Features
Auto-Uplink
Full en half duplex
1.000 MAC adressen
Store-and-Forward mode
Stevige en compacte metalen behuizing
Externe voeding
Plug-and-Play installatie
8 poorten 10/100/1000 Mbit (1 Gbps)
Op 4 poorten PoE - max. 45 Watt
Afmetingen: H 29 x W 158 x D 101 mm
Categorie : Data Comm & Netwerken, Producten, Netwerk Switches, Hubs, Routers & Switches
Specificaties
Algemene Informatie
Productnaam
ProSafe Plus Switch 8-port Gigabit Ethernet Switch with 4-port PoE
Technische Informatie
Energie
Garantie
Interfaces/Poorten
Gegevens poort/uitbreidingssleuf
8 x Gigabit Ethernet Network
Totaal aantal netwerkpoorten
Management & Protocollen
Media & Performance
Netwerk & Communicatie
Uiterlijke kenmerken
Overige
Inhoud verpakking
ProSafe Plus Switch 8-port Gigabit Ethernet Switch with 4-port PoE
AC Adapter
Wall-Mount Kit
Resource CD with Configuration Utility Software
Installation Guide