AXIS P3265-V P32 serie, Zipstream 2MP 3.4-8.9mm varifocale lens IP dome camera, wit
Merken:
AXIS Communications
Artikelnr #:02326-001
Naam: AXIS P3265-V P32 Series, Zipstream IP52 2MP 3.4-8.9mm Varifocal Lens IP Dome Camera, White
Excellent image quality in 2 MP
Lightfinder 2.0, Forensic WDR
Analytics with deep learning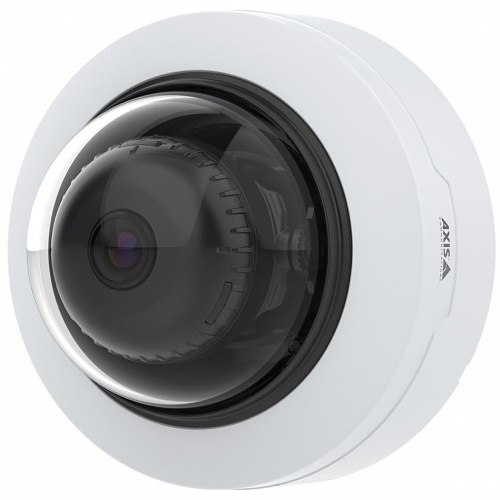 Productoverzicht
Algemeen Informatie
Met Lightfinder 2.0 en Forensic WDR levert de AXIS P3265-V een uitstekende beeldkwaliteit en forensische bruikbaarheid onder eventuele lichtomstandigheden. Gebaseerd op de nieuwste Axis system-on-chip (SoC) met een deep learning-verwerkingseenheid, maakt het: geavanceerde functies en krachtige analyses op basis van deep learning on the edge. En met AXIS Object Analytics vooraf geïnstalleerd, biedt het zeer genuanceerde objectclassificatie en snel zoeken in de VMS. Deze robuuste camera beschikt over audio en I/O-connectiviteit zodat u andere randapparatuur zoals een microfoon kunt integreren om audio-analyse mogelijk te maken. Bovendien voorkomt het met ingebouwde cyberbeveiligingsfuncties zoals Axis Edge Vault ongeautoriseerde toegang en beveiligingen van jouw systeem.
Main Features
Uitstekende beeldkwaliteit in 2MP
Lightfinder 2.0 en Forensische WDR
Analyse met deep learning
Audio- en I/O-connectiviteit
Ingebouwde cyberbeveiligingsfuncties
Categorie : Dome Camera's, Video, IP Camera's, Producten
Specificaties
Technische Informatie
Effectieve cameraresolutie
Gezichtsveld
Horizontal field of view: 100°-36° - Vertical field of view: 53°-20°
Maximum Focal Length (mm)
Minimale brandpuntafstand
Beeldscherm
Effective Camera Resolution (Pixel)
Belichting
Camera
Connectiviteitstechnologie
Category Specific Attributes
Minimum Focal Length (mm)
Interfaces/Poorten
Lens
Maximale brandpuntafstand
Netwerk & Communicatie
Omgeving
Maximale gebruikstemperatuur
Maximum Operating Temperature (°F)
Minimale gebruikstemperatuur
Minimum Operating Temperature (°F)
Opslag
Productinformatie
Montage
Bevestiging voor toestelverbindingsdoos, Ingebouwde montage, Plafondmontage, Plafondsteun, Plafondsteun DS-1299ZJ, Tripodbevestiging, Verticale bevestiging, Wandsteun
Uiterlijke kenmerken
Video
Overige
Kenmerken
Active Tampering Alarm, Audio Detection, Cross Line Detection, Defog, HTTPS Encryption, Microphone In, Password Protection, Privacy Masking, PTZ, Removable IR Cut-off Filter, Sabotagealarm, SD Card Local Storage, Wachtwoordbescherming, White Balance, Witbalans