Bosch 3000i Flexidome Serie, IP66 5MP 2.3mm IP mini dome camera met vaste lens, wit
Merken:
Bosch
Artikelnr #:NDE-3503-F02
Model #: F.01U.385.761
Naam: Bosch NDE-3503-F02 3000i FlexiDome Series 5MP Mini Dome Camera, 2.3mm Fixed Lens, White
Built-in Essential Video Analytics to trigger relevant alerts and quickly retrieve data
Fully configurable H.265 multi-streaming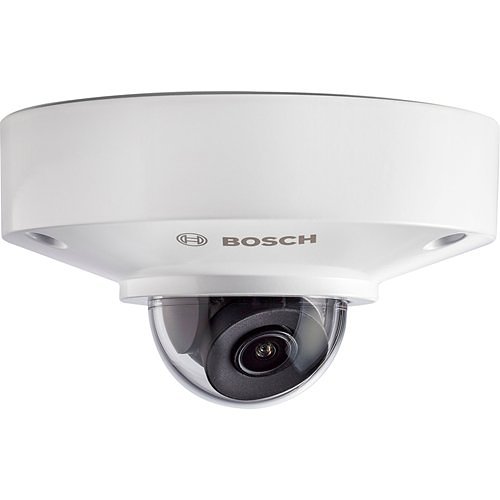 Productoverzicht
Algemeen Informatie
Introducing the FLEXIDOME IP turret 3000i IR surveillance camera, designed for high-quality performance 24/7. With its range of reliable surveillance features, including Essential Video Analytics, this camera provides advanced intelligence at the edge. Its compact and minimalist design ensures easy installation in various environments. Key functions include powerful video analysis capabilities, high dynamic range mode for enhanced image details, and intelligent streaming for efficient bandwidth usage. Experience top-notch surveillance with the FLEXIDOME IP turret 3000i IR.
Main Features
IP Dome camera
Voor buitengebruik en vandaalbestendig
Resolutie 5MP
Lens: 2.3mm
IR Bereik: NVT
Voeding: 12V, PoE
IP66, IK10
Essential Video Analytics, Hoog dynamisch bereik (High Dynamic Range, HDR)
Categorie : Video, Producten, Dome Camera's, IP Camera's
Specificaties
Algemene Informatie
Productnaam
NDE-3503-F02 Vaste microdome 5MP HDR 120° IP66 IK10
Technische Informatie
Effectieve cameraresolutie
Gezichtsveld
2.3 mm: 118° x 69° (H x V)
Maximum Focal Length (mm)
Beeldscherm
Effective Camera Resolution (Pixel)
Belichting
Camera
Connectiviteitstechnologie
Energie
Interfaces/Poorten
Lens
Maximale brandpuntafstand
Netwerk & Communicatie
Omgeving
Maximale gebruikstemperatuur
Maximum Operating Temperature (°F)
Minimale gebruikstemperatuur
Minimum Operating Temperature (°F)
Opslag
Productinformatie
Uiterlijke kenmerken
Duurzaamheid
Impactbestendig, Stofbestendig, Waterbestendig
Video
Overige
Kenmerken
Automatic Defog, Back Light Compensation (BLC), Cross Line Detection, HTTPS Encryption, Noise Reduction, Privacy Masking, Region of Interest, Sabotagealarm, SD Card Local Storage, SD-kaart plaatselijke opslag, Wachtwoordbescherming