Dahua HDW3549HP WizSense Series, IP67 5MP 2.8mm vaste lens, IR 30M IP turret camera, wit
Merken:
Dahua Technology
Artikelnr #:HDW3549PASPV28BS4
Model #: DH-IPC-HDW3549HP-AS-PV-0280B-S4
Naam: Dahua HDW3549HP WizSense, IP67 5MP 2.8mm Fixed Lens, IR 30M IP Turret Camera, White
Outputs max. 5MP (2592 × 1944) @20 fps, and supports 4MP (2688 × 1520) @25/30 fps
H.265 codec, high compression rate, low bit rate
Built-in warm illuminator, and the max. illumination distance: 30 m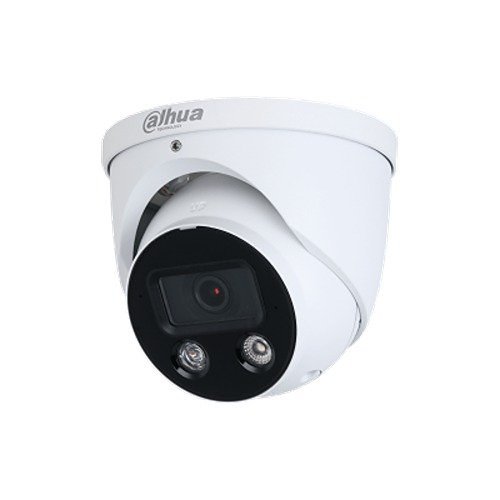 Productoverzicht
Algemeen Informatie
Launched by Dahua Technology, WizSense is a series of AI products and solutions that adopt independent AI chip and deep learning algorithm. It focuses on human and vehicle with high accuracy, enabling users to fast act on defined targets. Based on Dahua's advanced technologies, WizSense provides intelligent, simple and inclusive products and solutions.

Series Overview

With advanced deep learning algorithm, Dahua WizSense 3 Series network camera supports intelligent functions, such as perimeter protection and smart motion detection. In addition, with full-color technology, it provides a better image effect in the condition of low illuminance.

Functions | SMD Plus

With intelligent algorithm, Dahua Smart Motion Detection technology can categorize the targets that trigger motion detection and filter the motion detection alarm triggered by non-concerned targets to realize effective and accurate alarm.

Smart H.265+ & Smart H.264+

With advanced scene-adaptive rate control algorithm, Dahua smart encoding technology realizes the higher encoding efficiency than H.265 and H.264, provides high-quality video, and reduces the cost of storage and transmission.

Full-color

With high-performance sensor and large aperture lens, Dahua Full-color technology can display clear colorful image in the environment of ultralow illuminance. With this photosensitivity technology, the camera can capture more available light, and display more colorful image details.

Siren and Light Active Deterrence

Dahua siren and light active deterrence network camera supports light alarm and voice alarm when perimeter event occurs, to realize the deterrence and effective intervention. The camera is built in multiple voices for selection, and supports customized voice importing.

Cyber Security

Dahua network camera is equipped with a series of key security technologies, such as security authentication and authorization, access control, trusted protection, encrypted transmission, and encrypted storage, which improve its security defense and data protection, and prevent malicious programs from invading the device.

Protection (IP67, wide voltage)

IP67: The camera passes a series of strict test on dust and soak. It has dust-proof function, and the enclosure can works normal after soaking in 1 m deep water for 30 minutes.

Wide voltage: The camera allows ±30% input voltage tolerance (wide voltage range), and it is widely applied to outdoor environment with instable voltage.
Main Features
Outputs max. 5MP (2592 × 1944) @20 fps, and supports 4MP (2688 × 1520) @25/30 fps
H.265 codec, high compression rate, low bit rate
Built-in warm illuminator, and the max. illumination distance: 30 m
ROI, SMART H.264+/H.265+, flexible coding, applicable to various bandwidth and storage environments
Rotation mode, WDR, 3D DNR, HLC, BLC, digital watermarking, applicable to various monitoring scenes
IP67 protection
Categorie : Turret Camera's, Producten, Video, IP Camera's
Specificaties
Algemene Informatie
Artikelcode fabrikant
IPC-HDW3549HP-AS-PV-0280B-S4
Uiterlijke kenmerken