Notifier M701E-240 Analoge adresseerbare relais interface module, 220V AC
Merken:
Notifier
Artikelnr #:M701E-240
Model #: M701E-240
Naam: Notifier M701E-240 Analogue Addressable Relay Interface Module, 220V AC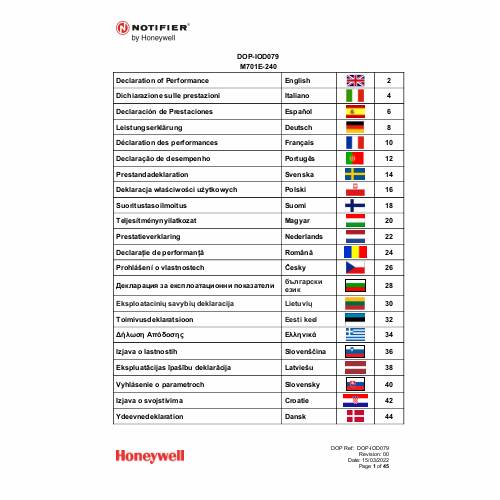 Productoverzicht
Algemeen Informatie
1 output addressable module. The output can be controlled on voltage free contact. CPD Certificate in accordance with EN 54 regulations 17 and 18. The module is addressed through rotary switches numbered from 01 to 99. This module is provided with 3-colour LED for the different signallings. The module is equipped with a bistable relay that is able to drive loads from 220Vac. Power 15-32VDC. Operating temperature: -20°C to +60°C. Relative humidity up to 95%.
Categorie : Relais, Brandrelais & Voeding, Producten, Brand
Specificaties
Algemene Informatie
Fabrikant
Honeywell International, Inc
Product Type
Addressable Output Module
Productnaam
M701E-240 1 Output Module - 700 Series
Technische Informatie
Ondersteunde apparatuur
Bedieningspaneel brandmelder
Energie
Uiterlijke kenmerken
Miscellaneous
Overige
Certificaten & Standaarden