STI-13120EG Universele stopper, opbouw, met signaalgever, groen nooduitgangslabel
Merken:
Safety Technology International
Artikelnr #:STI-13120EG
Model #: STI-13120EG
Naam: STI STI-13120EG Universal Stopper - Surface Mount with Sounder, Green Emergency Exit Label
Protects pull stations, keypads, intercom stations, emergency buttons, electrical light switches, duplex plugs, etc.
High strength continuous hinge.
Low profile - ADA Compliant.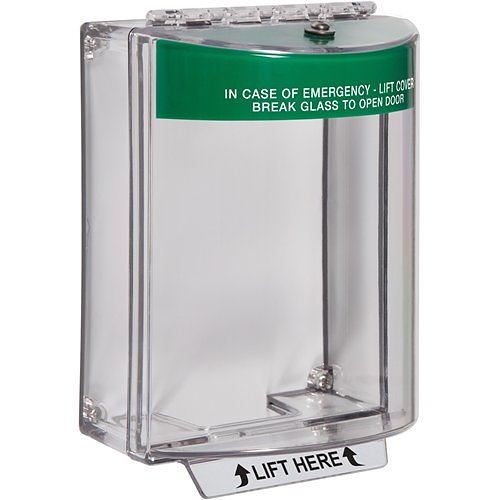 Productoverzicht
Algemeen Informatie
The Universal Stopper is an indoor and outdoor, low profile or dome polycarbonate covers that protects devices such as manual call points, emergency buttons and dual action pull stations etc., without restricting legitimate operation. The versatile cover can serve as a push button, pull station, electrical device or call point cover. The Universal Stopper offers excellent protection against physical damage (both accidental and intentional), dust and grime as well as harsh environments inside and out. Mounting options 0 & 1 are designed to meet the requirements of IP54, option 6 & 7 IP56 (Sealed Mounting Plate with option 6 provides IP66 protection).
Main Features
Afdekraam Stopper® opbouw versie met sirene
Kleur groen
Polycarbonaat bescherming voor plaatsen over drukknoppen
Geleverd met opbouwrand van 30mm
Afmeting: 140mm x 105mm x 78mm
Categorie : Brandaccessoires, Beschermende Covers, Brand, Producten
Specificaties
Algemene Informatie
Fabrikant
Safety Technology International, Inc
Productfuncties
Enclosures & Covers, Toegangscontrole
Productnaam
Universal Stopper Beschermkap
Physical Characteristics
Toepassing/gebruik
Binnen, Buitenshuis, Meldpunt
Uiterlijke kenmerken
Color Details
Green Emergency Exit Label
Miscellaneous